Jedno prijatno iznenađenje, jer stvarno nisam očekivao da je moguće sjesti sa jednim igračem i imati ovako dobar intervju. Zbog toga sam malo krenuo traziti i brzo sam naletio na zanimljivu stranicu u kojoj sportisti pisu o svom zivotu, profesiji, iskustvima i mnogim drugim stvarima. Izdvojio sam dva clanka. U jednom je Ryan Shazier za jednog svog saigraca napisao, da ne poznaje osobju koja ima veci pobjednicki mentalitet. U drugom, bivsi igrac Quentin Richardson pise o svom jako dramaticnom zivotu.
Jaylen Brown: 'Sport is a mechanism of control in America'
As the Boston Celtics star prepares to play in London, he talks to Donald McRae about race, the NBA and the death of his best friend
Donald McRae

@donaldgmcrae
Tue 9 Jan 2018 12.00 GMT Last modified on Wed 10 Jan 2018 18.05 GMT
https://www.theguardian.com/sport/2018/ ... -interview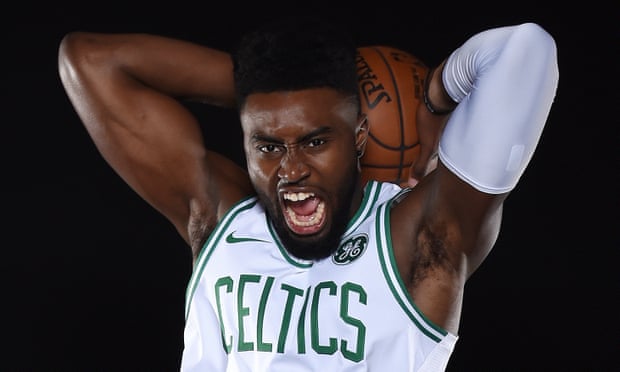 Jaylen Brown: 'We're having some of the same problems we had 50 years ago. Some things have changed a lot but other factors are deeply embedded in our society.' Photograph: Brian Babineau/NBAE/Getty Images

THE PLAYERS TRIBUNE
https://www.theplayerstribune.com/
THE 5 TOUGHEST GUYS I'VE EVER FACED
Jul 20 2017
Ryan Shazier
Linebacker / Pittsburgh Steelers
https://www.theplayerstribune.com/ryan- ... ver-faced/
We got a problem that we need to address off the top. I'm a big fan of the Five Toughest series, and I've wanted to do one of these for a while now, but there's a small issue with me doing it.
I play for the Steelers. I have two Top 5 guys on my own squad. It's not even up for debate. Antonio Brown: best receiver I've ever faced. Le'Veon Bell: best running back I've ever faced. That's not me gassing them up. That's just facts.
Now, I already know everybody on the Internet is going to come after me for doing them. So we'll make a deal here. You gotta let me include my guys. But I'll give you two trade-offs.
I promise you I'm going to give you some real nitty-gritty football insight.
I'm also going to include a Cowboy and a Raven. A Raven, man. That's how serious I am.
Now that we've got that out of the way, let's roll.
LETTER TO MY YOUNGER SELF
Jan 7 2018
Quentin Richardson
Retired / NBA
https://www.theplayerstribune.com/lette ... ichardson/
Dear 12-year-old Q,
They're gonna kill your brother. They're gonna kill Bernard. Over nothing. Just a random robbery.
Your grandma is gonna pass away from old age.
Your mother is gonna die from breast cancer. You'll have to watch her fade away. No more honey-tops and The Young and the Restless after school.
And I'm sorry to tell you, but it's all going to happen this year. '92.
Now, I got a question for you. Do you know what DNA is? You probably don't. DNA goes deeper than blood, man. It's your makeup. It's what you're built from. It's the cut of your cloth, you know what I'm saying?
You are from the South Side of Chicago.
You are from the "Wild Hunneds."
You are the son of Lee Richardson, driving that L train up and down the Green Line for 38 years.
So lucky for you, even though you're about to go through some real shit, you got the DNA of some motherfucking go-getters.